In this article, we'll be taking a look at the five best hang-on-back filters for axolotl tanks.
Filters represent a crucial part of an axolotl tank setup. It's one of the first things that new, potential axolotl owners should consider.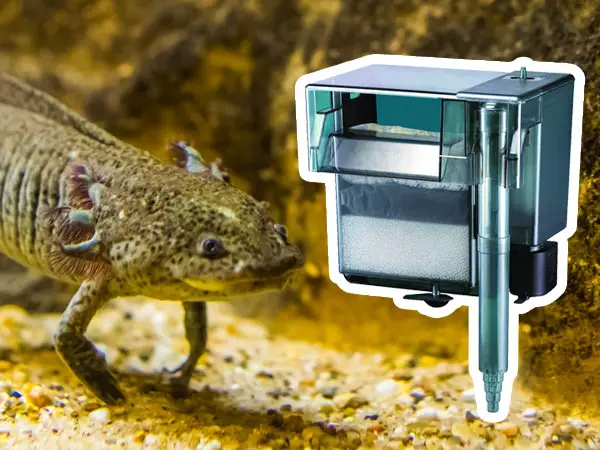 That's because axolotls are known for producing quite a lot of waste, and filters will help you cope with the demand. The filtration is even more important if you have other animals in the tank, and if you have plants in the water.
The choices are vast, and you should always choose a slightly stronger filter than your aquarium size. One of the simplest and most pain-free ways to have a filter is the hang-on-back filters.
These will provide you with enough filtration to clean the water in the tank, but above all, they will be extremely simple to use and set up.
All you need to do is to hang them on the edge of the tank, plug them in, and they are working. But you still need to make the right choice. What makes a good filter for an axolotl tank?
It's vital that the filter has an adjustable flow rate. That way, the axolotl will be able to move around without problems. A current that is too strong would cause a lot of stress for the axolotls.
Here are the five best hang-on-back filters for axolotl tanks.
First up, we have the AquaClear fish tank filter, which is one of the best choices for axolotl tanks. It's simple to use, you can set it up in practically minutes, and it provides one of the most complete filtration processes out of all these filters.
Because it's so practical, we recommend it to you highly. Additionally, it is a great filter for axolotls as it has an adjustable flow rate knob and the refiltration system.
This makes sure that the filtration process is as effective even if you set the water flow rate to lower levels. It's perhaps the one feature that makes the most sense for axolotl tanks.
You can choose from five different sizes of the filter, depending on the size of the tank. There are options from the smallest tanks to even the largest, ranging from 5-gallon tanks to 200-gallon tanks.
It's a very complete filter that offers biological, mechanical, and chemical filtration. Of course, you'll need to change the filters (AquaClear foam for mechanical, Activated Carbon and BioMax filters for chemical and biological filtration). It depends on the filter itself and the demand of the tank on how often you'll need to swap them.
It's an additional cost, but the simplicity, effectiveness, and the additional features of the filter makes this filter completely worth the asking price.
Pros
Three-stage filtration for an effective filtration process.
Very easy set up and use.
Refiltration system and an adjustable flow rate knob.
There are five sizes to choose from.
Cons
The filters need to be replaced constantly.
Next up, we have the Fluval C Power Filter. It's a hang-on-back filter with a 5-stage filtration, which is superior to many other filters of this size.
First, you get a two-stage mechanical filtration with the foam pad, where the larger pieces of debris get caught. Then, the water passes through the activated carbon insert, where the chemical filtration takes place.
Lastly, there are two stages of biological filtration, which gets rid of the bad chemicals and encourages the growth of beneficial bacteria.
Additionally, what makes this filter a great choice for axolotl tanks is the refiltration system, similar to that of the AquaClear filter. As the flow rate is lowered, the water in the filter gets processed multiple times, which creates an even cleaner environment.
Of course, you'll need to take care of the maintenance. All of the filters within this filter will need to be replaced at some point; the foam needs to be replaced once every month, while the activated carbon filter can last to up to 4 weeks. Other filters can last for a couple of months.
The process of setting up the filter is incredibly fast, and it's also simple to use. Other than the filter changes, you won't need to do much to keep it running. Even though this filter can get noisy at times, it's still a great filter to consider for your axolotl tank.
Pros
5-stage filtration with two stages of mechanical filtration, chemical, and two stages of biological filtration.
Refiltration system makes sure that the water quality is high when we use an adjustable flow rate.
The setup is very easy, and it's easy to use it.
Low maintenance requirements.
Cons
The internal filters need changing from time to time.
It can get noisy.
The Aqueon QuietFlow LED PRO brings us a premium performance for an affordable price. The best thing about this filter is the quiet operation, which is one of the biggest selling points. It offers us a three-stage filtration: mechanical, biological, and chemical.
It's self-priming, so starting this filter only takes a few minutes. It starts automatically once it's cleaned or after power interruptions.
It has an LED screen at the top which tells us the performance of the filter, and when we will need to replace the cartridges inside. It's a simple filter but a very effective one, and it's easy to use. There are various sizes to pick from, and you can choose the right size for your needs.
Another great thing is the lifetime warranty you get with the product – should anything go wrong with it, you'll still have the warranty active. It's better to choose a stronger filter than the size of your aquarium to ensure proper filtration, especially with the way the axolotls produce the debris.
It has higher flow rates, which is not the best for the axolotls, although the flow rates are also manageable. It's not too much for the axolotls, and you'll get a good performance for a long time. No leaks will be possible with the tight and leak-proof system. All in all, a great, silent option for a hang-on-back filter that you should consider.
Pros
A filter that's easy to install and use.
Requires no priming, as it starts automatically after shutdown.
Lifetime warranty.
Very silent operation.
Cons
No adjustable flow rate.
Cartridges need to be replaced.
The name says it all – it's a quiet HOB filter that will get the job done. The most noise this filter will produce is 40 decibels, which is not a lot.
That's possibly the biggest selling point of the filter, although it's not the only one. It has a self-priming system that will let the filter start up once it gets shutdown. The submerged motor starts once it needs to, so you won't have to worry about that.
It's appropriate for tanks of 10 gallons or more, so it's appropriate to use it in 10-gallon tanks. The 300GPH motor will make sure that the water will stay as clean as possible. It's a cartridge-based filter for smaller aquariums, and you should only consider it for tanks of up to 20 gallons at most.
Of course, there are various sizes of the filter to choose from. The cartridges will need to be changed monthly, which can become a hassle over time, but it's not that big of a problem. It only takes a couple of minutes, if not seconds, to change it; the only problem is the long-term cost.
It's great to be used solo and in combination with other filters. The choice is yours, and it's simple to use and set up, and you can always supplement it with other similar filters. You can even get two of these filters, which will ensure that the axolotl tank will stay as clean as possible.
Pros
Quiet operation.
Features a self-priming system for easy use.
Simple to set up and get it running.
Good price for the performance.
Cons
Not the best for larger tanks.
Cartridges need monthly changes.
Last but not least, we have the Freesea hang-on-back filter. It's the most affordable option on the list, but that doesn't necessarily mean it's the weakest.
Sure, it's only for aquariums of up to 20 gallons, or 30 gallons at most. But, it's certainly at its best when it comes to 10-gallon filters. It's highly adjustable, as you'll be able to adjust to different aquarium heights.
It's a very simple and practical filter. If you're more serious about your filtration, you can choose to get two of these filters, and you'll get a very strong filtration for a 20-gallon tank, for example, even with heavier loads. In addition, you'll also get a 12-month warranty to go with it, so you'll be safe if anything goes wrong.
It's a great filter that will get the job done, and it's perhaps the easiest solution. It represents great value for money – you are getting a lot for the money asked. It's the most affordable solution, although it's not great for larger tanks.
It's a fantastic short-term solution, although for the long-term, you'll probably need to supplement it. There's a small, three stage filtration included: for the mechanical filtration, there's a small filter sponge that will catch the larger particles. Then, there's activated carbon for chemical filtration, and the biochemical balls will make sure of the biological filtration.
For the money asked, you get an amazing and perhaps the most complete performance in this money range. Sure, it might not be the best for larger tanks, and it can get loud after a while, but it represents an excellent option, and it's value for money.
Pros
A simple filter that gets the job done.
3-stage filtration.
The filter is adjustable.
Good value for money.
Cons
Not the best for larger filters.
Can get loud.
Do Axolotls Need a Filter?
Of course, axolotls will need a filter, if not two of them. That's because of the fact that axolotls will emit a lot of debris, and you'll certainly need to filter the water.
Yes, you should certainly get a filter for the axolotl tank. Some people argue that it's not needed, and you can take care of everything yourself by doing regular water changes. But that's just not true; only water changes won't be enough to thoroughly clean the water, and you'll have to do an extraordinary amount of work at the same time.
It would take water changes on a daily basis at the very least, and there's also ammonia levels to mind, and other water parameters. A filter will make sure that all those parameters are also considered, and you'll only mostly need to care about the quality of the filter and how it works.
In some cases, it would even be better to have two filters. That is the case especially for the tanks where there's more animals, or even where there's plants.
Choosing Filter for Axolotls
Choosing the right filter matters a lot. Here are all the things that you should consider when choosing the filter for axolotl tanks.
The tank size. First, you'll have to consider the size of the aquarium. According to the size, you'll have to buy the appropriate filter, but it's better to overfilter the water rather than underfilter. For this, you'll need to buy a stronger filter than the size of your aquarium is.
The adjustable flow rate. One of the most pressing concerns as an axolotl owner will be to take care of your axolotl and the filters. When the filter pumps the water back into the aquarium, the flow rate can be too strong for axolotls. And when it's too strong, they'll get stressed, and might encounter diseases and other health problems.
How simple it is to use. This is another factor that comes into play. Is it simple to set up and use, does it require a lot of maintenance on the long-term, or is it simple and very easy to maintain? Some people will not want to deal with complicated or larger filters that take a lot of time and money to maintain.
The price. Lastly, the price will also come into play here. All of these hang-on-back filters are relatively affordable, although there's still some variety. The cheaper ones are great, but they are usually geared towards smaller aquariums.
How Often to Clean HOB filter?
Depending on the type of filter you buy, you'll have to provide a lot of maintenance that differs between filters. Some filters will need constant cleaning, such as those with permanent internal filters, while others need to have their internal filters changed constantly.
But, you should still clean your filter, even if it has a cartridge or other replaceable filters. How often depends on the size of your filter, how much water it has to filter, and the amount of debris. Usually, it takes weekly or biweekly cleaning to keep the filter running properly.
When it comes to changing internal filters, you'll have to do filter changes depending on the type of filter you're changing. Some cartridge filters will need changing every few weeks, and other types will need changes every few months.
Ideal Water Flow for Axolotls
It's very important to choose the right filter with an adjustable flow rate for axolotls. If the flow from the filter is too strong, the axolotls will endure a lot of stress, and it can even cause sickness.
The adjustable flow rate makes sure that the flow is not too strong, and you can adjust it every time you want. But, some filters still use the same strength of the filtration, regardless of whether they are using an adjustable flow rate.
That's called the refiltration system. The water will get through the filter multiple times until the water quality is of the optimal level. So even if the flow is slower and it's not as strong as normally, the quality will still be at a very high level.
Conclusion
A filter is one of the most important components of an axolotl tank. You'll have to choose which filter you'll want to have, and hang-on-back filters represent possibly the easiest choice.
That's because they are simple to set up, and easy to maintain. Mostly, they don't require maintenance, and you need to change the filter from time to time. Here, we have narrowed it down for you and presented you the five best HOB filters for your use.
Ultimately, it's up to you; how much you are prepared to spend, and what type of filter you prefer. All of these filters are geared towards those who operate on a budget, and all of them are of a high quality standard for the money. Hopefully, we've made your decision a lot easier.
Updated: September 1, 2022