Axolotls can be vulnerable to warm water temperatures; should they go too high; the amphibians might struggle to survive for longer periods. Stress will creep in, and various diseases are virtually unavoidable. It might even lead to death.
There is a big importance on keeping the water temperatures at the right levels. Axolotls enjoy temperatures between 16-18 degrees Celsius (60-64 degrees Fahrenheit), although they can adapt.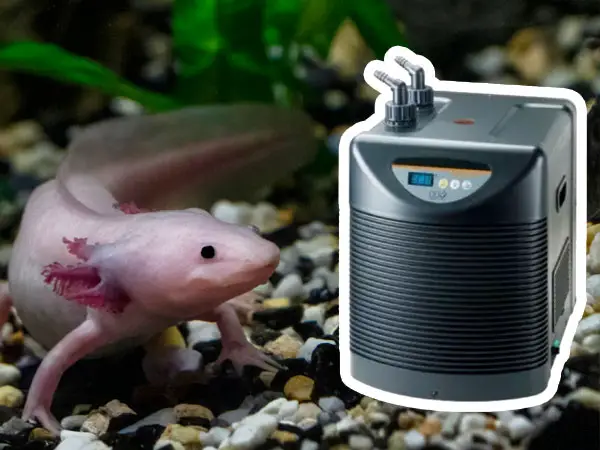 But the temperatures should never exceed 22 degrees Celsius, which might be hard to sustain for longer periods for some owners. That might be due to warm air temperatures, or other factors that can keep the water temperatures that high.
Normally, axolotl tanks will be held in rooms where the room temperature is 20 degrees Celsius (68 degrees Fahrenheit) or higher. That in itself can warm up the water in the tank and make the water temperature inappropriate for the axolotls. But the good news is that there is a very effective way of keeping these temperatures down.
The best and easiest way can be by buying a good aquarium chiller. There are many quality aquarium chillers available, and some that are not as good. To make the best choice, we have compiled the list of 5 of the best aquarium chillers for you. Hopefully, you will find something for your needs here.
Best Aquarium Coolers for Axolotls
Coolers can be expensive. That is because it is a pretty complicated mechanism that turns electrical energy into a cooling one, meaning that the water temperature will get cooled effectively, and without much of your work.
A good cooler should be able to cool the water with minimal electricity consumption, and should work silently. You should also pick the right cooler for your tank size. Additional points go to coolers with a good LED display that tells you all the specifications of the water, and lets you adjust everything with only a few clicks. Here are the 5 best aquarium chillers for axolotls for you to consider.
The first chiller on the list is the most affordable option, but that doesn't necessarily mean that it lags behind others in terms of performance.
The main reason for the lower price is the fact that this chiller is suited to smaller tanks; a single unit of this chiller will be able to handle aquariums of up to 40 gallons.
Although it won't be as effective at 40 gallons than, let's say, at 10 gallons. For 10 gallons, the chiller will cool the water down for about 6-8F, and for 20-gallon tanks, for about 3-4 °F.
This means that the chiller does its best work in aquariums of 10 or 20 gallons, although it can cool the water in slightly larger ones, too. For 40-gallon tanks, it will chill the water for about 1-2 °F; it might not be much, but just enough for users that don't need a strong performance.
You can always get another unit and use two or more together for larger tanks. It doesn't take up much of energy, so it is quite efficient for its size. If you have 40+ gallons of water in your tank, then you should disregard this chiller immediately; but for smaller tanks, this chiller strikes the perfect balance between effectiveness, energy consumption, and quietness.
Another thing that this chiller lacks is an LED screen that tells us the water temperatures at the time. So, you will have to make some compromises for the price, but you will still get a decent performance, especially for smaller tanks.
Pros
Very effective for tanks with 10-40 gallons of water
Silent operation
Energy-efficient
Relatively cheap
1-year warranty
Cons
Doesn't have a screen
Not suitable for tanks larger than 40 gallons
Doesn't have an on/off button.
Moving on to a more powerful chiller, the Hamilton technology aqua euro max chiller will bring you the maximum performance with minimal electricity consumption. You have four options to choose from:
1/2HP that is the costliest, but will cool even the largest tanks
1/4HP is the version that finds the sweet spot between performance and price
1/10HP is suitable for smaller tanks
1/13HP is the smallest and cheapest version, but still a very good chiller, especially for small tanks
The best thing about this chiller is the ease-of-use. Despite its initial higher price tag, the chiller is easily available and usable even for beginners when it comes to chillers.
It features a heat exchanger unit that is placed outside the tank, and is connected to it via tubing. This chiller unit is made from corrosion resistant titanium, meaning it will last for longer.
The advantage of this chiller is that it offers a 25% better heat exchange process for the energy used compared to other devices of the same range.
This is achieved by the high-quality condenser within the unit that utilizes the least possible amount of energy to provide the heat exchange. Besides, the unit is straightforward to set up, and to use.
This is only improved by the LED screen that is found on the unit. There, you can adjust the temperatures very easily and you will be able to see the recent measurements of the water parameters. For those seeking performance and efficiency, you can't go wrong with this option.
Pros
Very powerful chiller unit
Suitable for even the largest tanks
Very energy-efficient performance
Easy to use, it has an LED screen
Cons
Can be too expensive for some people
The chiller requires a separate pump
The Active Aqua chiller comes in four different versions: the 1HP version, the 1/2HP, the 1/4HP, and the 1/10HP version. The first one is more suitable for larger tanks, such as between 40 and 95 gallons, and the 1/4HP version is better for smaller aquariums. Both versions, however, enable us a very good chilling process and silent operation.
For the chilling process, the anti-corrosive pure titanium evaporator makes sure that the water gets chilled as efficiently as possible. This unit is also very durable and won't be prone to corrosion. The BTU rating is 3010 per hour. Keep in mind that you will need a separate pump for this chiller as well.
However, this chiller is much more than just an aquarium chiller. It serves all kinds of different purposes, including for aquarium needs.
Compared to some other chillers, this one is in the mid-range pricing level, but it does bring a lot for the money. The good thing is also that it doesn't leak easily, making sure that the efficiency is at a very high level.
There is also an LED screen on the unit which tells you the specifications of the water and enables you to easily adjust the water temperatures. The buttons are designed for easy use, and everything is pretty straightforward. You'll also get instructions so that you will set it up easier.
Pros
Very good and efficient performance
Pure titanium evaporator
Silent operation
BTU rating of 3010 per hour
Cons
No pump included
Can be expensive
For those looking for the highest level of performance from a chiller, you should certainly have a look at the JBJ Aquarium Arctica chiller.
To start with, these are the versions available for this chiller: 1/3HP, 1/5HP, 1/10HP. We are looking at the 1/5HP version, the medium-range chiller that is appropriate for tanks of up to 100 gallons.
The installation of this chiller is pretty straightforward: all you have to do is to connect the hoses to the tank, and plug the chiller into an electricity socket, and you are ready to go.
At the start, there are some settings that you need to take care of; firstly, you will need to set up the temperature on the chiller itself, and the buttons can be found next to the LED screen.
But it is the performance that is the biggest plus of this chiller. It is a titanium chiller, meaning that it won't be prone to corrosion any time soon, and the performance is a joy to behold.
Not only will you get the most energy-efficient chiller out there, but you'll also have one that operates silently. It has a strong internal cooling system which allows the device to work silently at all times.
Even though the price will be high at the start, you will be getting this chiller for the long-term. Even with regular, daily use, you are guaranteed at least 10 years of top-level performance.
Some users have reported that they have owned this unit for 15 years or even more. If you have a problem with high temperatures, the solution is simple: get this chiller (if you can afford it).
Pros
Top-notch performance
Energy efficient and silent operation
Titanium unit prevents corrosion
Longevity
Cons
Perhaps one of the lesser known chiller providers on the list, BAOSHISHAN offers a very good solution for cooling down the water in your tank. The biggest selling point of this chiller is the silent operation.
The whole body of the chiller is made in such a way that it prevents noise from coming out of the device. It has a body with plenty of holes for good air circulation, and you can be sure of the silent operation.
It is a 1/10HP chiller, meaning that the cooler will be most appropriate for tanks with 40 gallons of water at most.
The nice thing about the chiller is that you can easily set the water temperature on the chiller body, where the LED screen lets you know what the current temperature is, and what the setting is at the moment. You can choose between 5-36 degrees Celsius.
It has an electronic refrigeration technology which takes care that the whole operation is very energy-efficient. There won't be any emissions from the cooler, either. The use of the chiller is simple: you can set the desired temperature with the buttons on the body of the chiller, and you can see them on the LED screen. Here, you'll also be able to see the current water temperatures.
The set up can be done with plugging the tubes onto the chiller and connecting them into the tank. It's also fairly durable, as it prevents corrosion and prevents the chiller from getting used even after heavy use. There's a lot to like about this package, even if the provider isn't the most well-known one.
Pros
Everything is geared towards a silent operation
The set up and use is simple with the LED screen
Energy-efficient and no emissions
Durable
Cons
Why do Axolotls Need a Cooler?
If you live in an area where the air temperatures constantly exceed 22 degrees Celsius (72 °F), and you own an axolotl tank, then you should consider getting a water chiller for your tank.
Axolotls will strive in temperatures between 16-18C (60-64 °F). Although they can adapt to slightly lower or higher temperatures, it is not recommended to keep them in different temperatures for prolonged periods. If the air temperature is too high, then you won't be able to keep the water temperature down to the ideal levels without a chiller.
Sure, you can try other different techniques of bringing down the water temperature. But the problem with most of those methods is that they are just not as effective as, for example, a chiller. Yes, these devices can be costly, but rest assured that the water temperature will never exceed the levels that are considered risky for axolotls.
Besides, chillers can be used for many other things; some use them for many aquariums and exchange them from time to time, while others need them for things such as beer fermentation, PC setups, and much more.
How do You Keep Axolotl Tank Cool?
The best way to keep the axolotl tank cool is with an aquarium chiller. Although, there are many other ways of doing that without having to spend the money on a chiller. But some of these methods are just not as effective or reliable than a chiller.
First, you must keep the tank away from direct sunlight. This will prevent higher water temperatures and sunlight can encourage algae growth. Also, don't keep the tank near a heating source or near a light. Both of these can significantly increase the water temperatures in your axolotl tank.
Another thing you can try is to lift the lid of the tank from time to time. This will enable water evaporation, which will circulate the heat out of the water and decrease the water temperature slightly. Another good tip is to keep the tank near or on the floor where the colder air tends to circulate, instead of on higher areas of the room where warm air is.
Out of all these solutions, a chiller is arguably the most effective and reliable way of keeping the water temperature down. Although it may cost you a lot, you just won't get the same results with other ways of cooling down the tank.
Can You Put Ice Cubes in Axolotl Tank?
Some owners like to cool the temperatures by putting ice cubes into the tank. Yes, it can be an effective way of keeping the temperature low, but it is also not that reliable and it can cause the axolotls some harm.
That can happen because the ice cubes can cause very sudden temperature swings, which can increase stress levels massively, and in turn, doesn't present the best option to cool down the water. Also, you need to be moderate with the ice cubes; if you put too many, the water will cool down too much, leading to lower temperatures.
All in all, you can use ice cubes, but you will have to use them in moderation and measure the water temperatures regularly.
How to Cool Axolotl Tank if you Can't Afford a Chiller?
Chillers can be very expensive. For some, too expensive. But how do you keep the temperature down with something less expensive?
You can use a bigger fan and point it to the water surface. This way you will encourage water evaporation, which will result in the water temperature dropping.
This may sound like an ineffective solution, but it is certainly worth trying. It's not nearly as effective as a chiller, though, and it is not the best option. But if you can't afford a chiller, this is something you can try to keep the temperatures as low as possible through evaporation.
Conclusion
The ideal water temperature for axolotls is between 16-18 degrees Celsius (60-64 degrees Fahrenheit), and you should do everything to try and keep it within those levels.
But you might not be able to achieve it without a hood water chiller. Hopefully, you will find a good chiller for your own needs from this list.
Updated: September 5, 2022